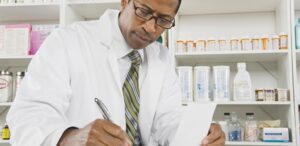 In this webinar, URAC leaders will discuss URAC's measurement philosophy, the pharmacy landscape, and URAC's role in promoting pharmacy quality for all consumers. 
---
---
Shawn Griffin, MD, FAAFP, President & CEO of URAC
Dr. Shawn Griffin is the first physician to serve as President & CEO for URAC, the leading independent, nonprofit accreditation organization in the United States.
Before URAC, Dr. Griffin served as the Vice President for Clinical Performance Improvement and Applied Analytics at Premier Inc. Dr. Griffin spent close to eight years in the role of Chief Quality and Informatics Officer with Memorial Hermann Physician Network in Houston, Texas. Dr. Griffin has also served as the Chief Medical Information Officer for both Baylor College of Medicine and Heartland Regional Medical Center.
Dr. Griffin is a graduate of Carver College of Medicine at the University of Iowa. Dr. Griffin was trained in Rural Family Medicine and is a fellow of the American Academy of Family Physicians
Eleni Theodoropoulos, CPHIMS, URAC Vice President, Quality, Research & Measurement
Eleni Theodoropoulos is the Vice President, Quality, Research & Measurement at URAC. With over 16 years in health care and 21 years in information technology, she recognizes the challenges associated with data collection, measurement, technology, and the impact to health care consumers. She is responsible to lead resources from URAC, industry representatives and contractors in the development and implementation of products for measurement and assessment of various types of health care companies. Additionally, she provides oversight for the quality activities within URAC.
In previous health care and technology roles, she has led or participated in various health care projects that have led to multiple standardized system and process improvements, demonstrated performance excellence, and unbudgeted revenue streams. Eleni holds a Bachelor of Science in Decision Sciences and Management Information Systems from George Mason University. She is also a Certified Professional in Healthcare Information and Management Systems (CPHIMS) since 2013 and is currently pursuing her Project Management Professional (PMP) certification.
Heather Bonome, PharmD, URAC Director of Pharmacy
Heather Bonome, PharmD, URAC director of pharmacy, is responsible for the management of URAC's Pharmacy Quality Management® accreditation programs. She partners with the volunteer pharmacy advisory group that assists URAC in defining best practices and quality standards and manages the team of URAC pharmacist reviewers that conduct pharmacy accreditation reviews and present applications to URAC's independent accreditation determination committee.  In this capacity, she has led the team in conducting more than a thousand pharmacy accreditation reviews.  
Prior to URAC, Bonome worked in the pharmacy benefit management field for nearly 15 years, partnering with clients to develop sound clinical strategies and promote appropriate pharmaceutical utilization. She received her Doctor of Pharmacy from the University of Pittsburgh and completed a post-graduate pharmacy residency in managed care. A recognized expert in accreditation and quality standards, Bonome is a frequent speaker and panelist at national pharmacy conferences.