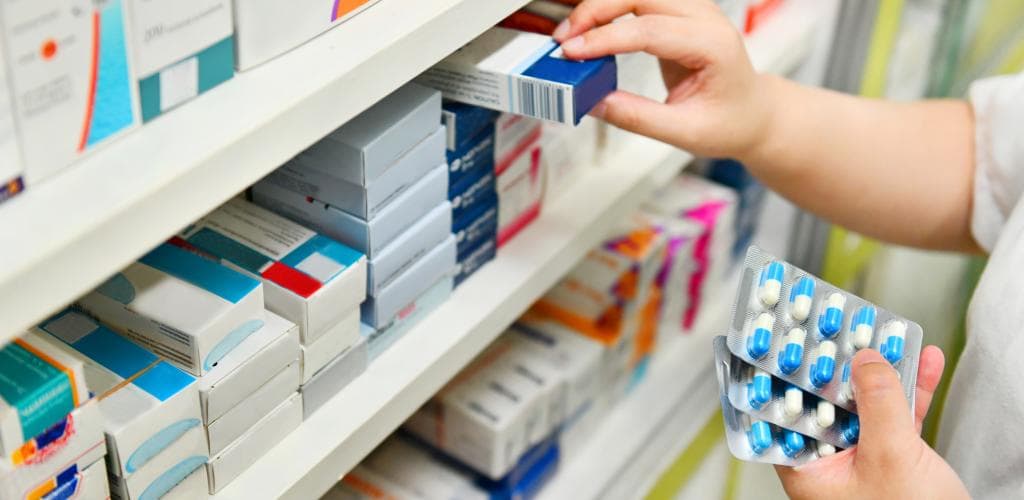 Specialty pharmacies across the country have always been driven by a desire to improve patients' lives and now they have become an integral part of the care team in a variety of value-added ways, including collecting, analyzing and sharing data; as well as partnering with patients, providers, manufacturers and other stakeholders. In this webinar, leaders from URAC, the National Association of Specialty Pharmacy, and URAC-accredited clients share how they have developed a variety of innovative and evidence-based models of care that use data, expertise, empathy, outreach and ingenuity to overcome challenges and deliver exceptional care to patients.
---
Watch the On Demand Webinar
Our white paper, Specialty Pharmacy: Succeeding in a Shifting Landscape, highlights the work done by five of our accredited organizations and features interviews with leaders from each, as well as an overview of the specialty pharmacy landscape from the National Association of Specialty Pharmacy. Download the White Paper here.
---
Speaker Bios
Heather Bonome, PharmD
Heather Bonome, URAC's Director of Pharmacy, is responsible for the development and management of URAC's Pharmacy Quality Management® accreditation programs. She oversees the volunteer pharmacy advisory group that assists URAC in defining best practices and quality standards and manages the team of URAC pharmacist reviewers that conducting pharmacy accreditation reviews and present applications to URAC's independent accreditation determination committee. In this capacity, she has led the team to conduct more than 1000 pharmacy accreditation reviews. Prior to URAC, Heather worked in the pharmacy benefit management field for nearly 15 years, partnering with clients to develop sound clinical strategies and promote appropriate pharmaceutical utilization. She received her Doctor of Pharmacy from the University of Pittsburgh and completed a post-graduate pharmacy residency in managed care. A recognized expert in accreditation and quality standards, Heather is a frequent speaker and panelist at national pharmacy conferences.
Tara Kelley, PharmD, CSP, MMHC
Tara Kelley is the Executive Director of Specialty Pharmacy Services at Vanderbilt University Medical Center. Tara has over 6 years of experience in Specialty Pharmacy clinical and call center operations, accreditation, compliance, outcomes research, market access, trade relations, contracting, management and strategy. She is currently serving as Chair for the ASHP Section of Specialty Pharmacy Practitioners Executive Committee.
Sheila Arquette, RPh
Sheila Arquette is the President & CEO of the National Association of Specialty Pharmacy. She holds a Bachelor of Science degree in Pharmacy from the State University of New York at Buffalo School of Pharmacy. She has extensive practical and leadership experience in retail pharmacy, hospital pharmacy, long-term care consulting and dispensing, in addition to managed care, PBM operations and specialty pharmacy. Sheila has been appointed to the University of Pittsburgh's Master of Science in Pharmacy Business Administration (MSPBA) Executive Steering Board, Missouri State University's Customer Experience Program Advisory Board and is the host of the NASP Podcast on the Pharmacy Podcast Network. Prior joining NASP in February 2017, Sheila was the Director of Pharmacy Services at Independent Health.
Brianna Kaleikau, RN, BSN
Brianna Kaleikau is currently the Infusion Nurse Manager at Heritage Biologics and leads the organization's accreditation program. Brianna helped guide Heritage Biologics through dual-accreditation and understands the direct impact that staying ahead of industry best-practices has on the standard of care they deliver. Brianna enjoys that the nature of her role allows her to provide direct care to rare-disease patients and work with teams at the pharmacy for ongoing accreditation standard compliance. Brianna finds fulfillment in empowering patients throughout their health care journey and recognizes the integral role that nurses and providers have on rare-disease patients and their families. Brianna has earned IgCN® credential by the Immunoglobulin National Society.
Amanda Walker, CPXP, BSN, RN
Amanda Walker is a renowned leader in the rising Patient Experience (PX) Movement. As Chief Operating Officer at Heritage Biologics, Amanda serves in a critical leadership role responsible for unifying quality, safety and experience strategies to improve the overall patient experience. In this role, Amanda elicits a preeminent patient-centered commitment by relying on her extensive clinical background. Prior to her promotion to the executive leadership team at Heritage Biologics, Amanda served the Hematology/Oncology, Blood and Marrow Transplant patient population as a nurse and Clinical Nurse Educator (overseeing the education of 180 nurses and staff members). Amanda's efforts have garnered national recognition, including a PBS special, several publications regarding improving pharmaceutical patient experience, and the Avila University's College of Science & Health Alumni Award. Amanda's contributions to both health care and patient experience are transforming the lives of patients nationwide.