This webinar is an overview of URAC's new Health Utilization Management certifications for delegated entities.
Join URAC as our industry leading experts share with you how our Utilization Management (UM) certifications can help you meet the highest quality standards in patient care management. This webinar will answer your questions about how your organization can reap the benefits of certification and put you in a better position to serve patients, providers, and most importantly, your clients.
These recently developed four new certifications for UM delegated entities are designed to demonstrate to UM partners that no matter where in the UM process an organization resides, it meets best practice guidelines as verified by URAC, a trusted and independent third party.
This webinar will provide a brief overview of the four certifications and share some of the benefits of being a URAC-certified delegated HUM entity.
Learn more about all URAC's Heath Care Management Programs here.
---
Panelists
URAC President & CEO

Dr. Shawn Griffin is the first physician to serve as President & CEO for URAC, the leading independent, nonprofit accreditation organization in the United States.
Before URAC, Dr. Griffin served as the Vice President for Clinical Performance Improvement and Applied Analytics at Premier Inc. Dr. Griffin spent close to eight years in the role of Chief Quality and Informatics Officer with Memorial Hermann Physician Network in Houston, Texas. Dr. Griffin has also served as the Chief Medical Information Officer for both Baylor College of Medicine and Heartland Regional Medical Center.
Dr. Griffin is a graduate of Carver College of Medicine at the University of Iowa. Dr. Griffin was trained in Rural Family Medicine and is a fellow of the American Academy of Family Physicians.
---
Deborah Smith, MSN
Deborah Smith has been a member of the URAC team for more than two decades, starting as a volunteer committee member and currently as URAC's full-time Product Development Principal. Deborah is responsible for the growth strategy to be attained through new product development.
The suites of programs Deborah creates include digital health, health care management and operations, and provider integration and support. Her vast knowledge of health care accreditation covers telehealth, population health, clinically integrated networks, contact centers, and utilization management and review.
Deborah earned her master's degree in nursing from UCLA.
---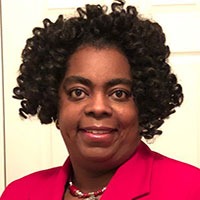 Monica Dantzler-Thomas MSN, MHA, RN, CCM, LNC
Monica Dantzler-Thomas, URAC's Director of Care Management, brings more than 20 years of experience in health care. Her career in health care includes expertise in quality management, case management and regulatory management. She has held administrative positions including Manager of Care Coordination, Manager of Case and Quality Management and Manager of Medical Review. In addition, she worked 10 years as the Legal Nurse Consultant for the Roberson Law Firm.
---
Available On-Demand
Please visit our YouTube Channel to view all our On-Demand content.