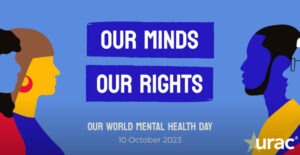 October 10 is World Mental Health Day and URAC joins the World Health Organization to unite behind the theme "mental health is a universal human right" to improve knowledge, raise awareness and drive actions that promote and protect everyone's mental health as a universal human right.
Watch URAC's President and CEO, Shawn Griffin, MD as he discusses the importance of mental health.
Join the World Mental Health Day 2023 campaign to learn more about your basic right to mental health as well as how to protect the rights of others.
---