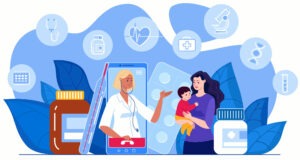 URAC at welcomes you to the eTelemed, a unique series of events that features a blend of telehealth, social medicine and the implementation of digital health care tools in this global age.
With projected growth in the telehealth market globally, URAC is to be part of this one-of-a-kind meeting to discuss successful business models, opportunities in emerging markets, the challenges, and solutions for cybersecurity and international regulatory navigation.
Learn how URAC's digital accreditation programs can help your organization have the competitive advantage in this growing marketplace.

On Demand Webinar – Expert Perspectives: Digital health and quality care
URAC recently hosted a panel with experts from Amwell and ATA where they discussed how the growth of telehealth and virtual care reduces costs, improves patient care and increases clinician satisfaction. They talked about how advances in telehealth and digital health accreditation help reduce provider burnout, increase multidisciplinary patient care, and keep patient data and providers safe.
URAC International Telehealth and Remote Patient Monitoring Programs Give You Competitive Advantage
Join leading international organizations, including Ain Shams University Virtual Hospital in Egypt and Glucare Integrated Diabetes Center in Dubai. Pursue URAC accreditation to help prepare you to meet the evolving challenges in digital health worldwide.
Benefit from URAC's 30 years of health care expertise  
Customized roadmap specific to your organization's specific goals

 

Collaborative process to facilitate improvement in your organization

 

Gold star accreditation to highlight your expertise to partners

 
URAC international accreditation offers leading global health organizations the opportunity to showcase their commitment to the highest quality and outcomes in telehealth, remote patient monitoring and health websites to help you deliver better care for your patients. 
Telehealth and Behavioral Health - Download the White Paper
Providers and patients across the country have turned to telehealth to serve their needs. While telehealth encounters continue to rise in most specialties, in the field of behavioral health, the revolution has been particularly dramatic. This area of health care has experienced longstanding challenges, including access to affordable, quality care. Does a move to telehealth open new possibilities for addressing treatment for mental health and substance use disorder diagnoses? We asked some experts for their take.
To download our white paper, Telehealth: Addressing our Nation's Mental Health and Substance Use Disorder Challenges, please click the link below.