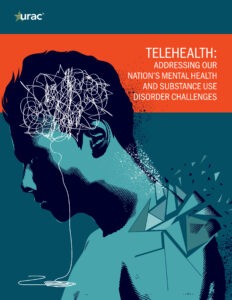 During the COVID-19 pandemic, providers across the country turned to telehealth to serve their patients' needs. While telehealth encounters rose in most specialties, in the field of behavioral health, the revolution was particularly dramatic. This area of health care has experienced longstanding challenges, including access to affordable, quality care. Did moving to telehealth open new possibilities for addressing those challenges? We asked some experts for their take.
Download Our White Paper
To download our white paper, Telehealth: Addressing our Nation's Mental Health and Substance Use Disorder Challenges, please submit the form below; the white paper will be emailed to you.
URAC Digital Health Programs
Digital health is everywhere in health care today, either meeting consumer and payer demand or due to emergency medical necessity. A URAC accreditation readies your organization to meet those demands and exceed industry standards. Organizational leaders know the time to act is now.
Performs and/or delegates health care services via telecommunications technology