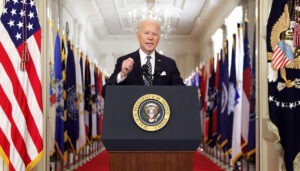 On March 28th, the White House released the federal fiscal year for 2023 budget, to begin on October 1st. The budget proposes to allocate $4.8 billion to services that will transform mental health and substance use disorder coverage and infrastructure in the US.
The new White House budget ($5.8 trillion) seeks to establish several priorities, including the 'Unity Agenda', which President Biden outlined in his State of the Union address.
The Biden administration has outlined their intent to tackle four points as part of the Unity Agenda:
Beat the Opioid epidemic
Address Mental Health – especially among youth
Support Veterans suffering from exposure to burn pits
Create an Advanced Research Project Agency for Health
The budget also assigned $275 million over the next 10 years to the US Labor Department (DOL) to enforce the Mental Health Parity and Addiction Equity Act (MHPAEA) with payers.
Medicaid will receive an additional $7.5 billion toward expanding programs that improve community mental health services over the next ten fiscal years.
With increased funding to expand access and enforcement of the MHPAEA, URAC's ParityManager™ software solution allows your organization to analyze areas for compliance. URAC's MHSUD Parity Accreditation demonstrates your organization's compliance with the requirements of MHPAEA, as well as your health care organizations overall excellence.
---
Learn more about URAC's Mental Health/Substance Use Disorder Parity Accreditation Programs
---
Source